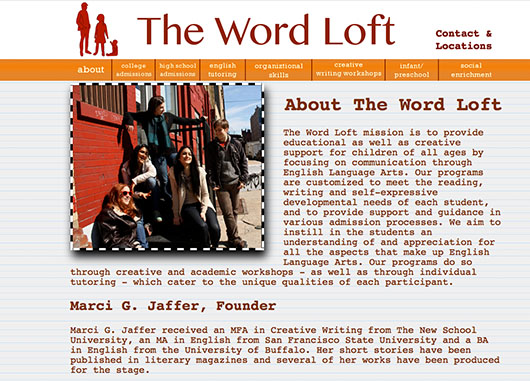 The Word Loft
Brief
The Word Loft asked CGMuse to design a complex, multi-dimensional website to launch their new educational business, illustrating and explaining the caring environment and varied facets of their class offerings.
Solution
CGMuse designed a site guiding the user through the range of The Word Loft's classes and visually demonstrating the creative, informal atmosphere of the program. Effective messaging was conveyed through;
Logo creation, typography and branding - connecting on the emotional level
Intuitive navigation clearly guiding the user through complex information, reaching any point on the site in two clicks or less
Photography expanding the text information, illustrating student's ages and types of classes offered
Dynamic copywriting, engaging and educating the reader while establishing trust and confidence in the educational expertise of the company
Deliverables
The website created huge buzz within it's target community of downtown New York families. Within the year website traffic was converting to applications to its classes and inquiries about bringing The Word Loft's programs to established schools.