MOUNTAIN HOUSE PIZZA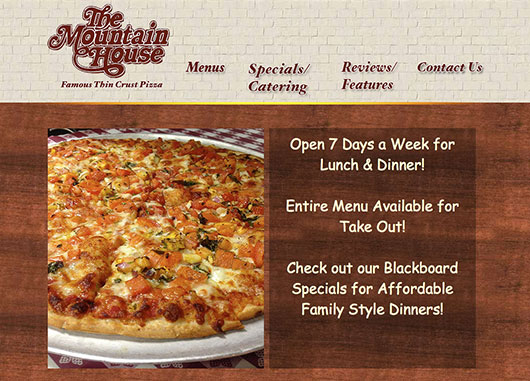 Brief
Mountain House Pizza, a Rockland county landmark, approached CGMuse to build their first website. Business was slow, and the new owners wanted a site that would return them prominently in search results, accurately pinpoint them on Google maps and let them post their menus online.
Solution
To increase Mountain House Pizza's web presence in search results, CGMuse's site construction incorporates SEO expertise and includes embedded online recommendations, reviews and a Google map. The visual concept employs a warm color palette, and photography and design elements which echo the restaurant's rustic food and décor and feature both their regular and catering menus and specials.
Deliverables
The first eight out of ten entries of the first page of Google's search results for "pizza" in Mountain House Pizza's location return links for Mountain House Pizza. Google features the restaurant at the top right of the search page with Google reviews and a link to the restaurant site. Business is booming.